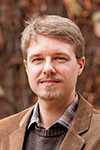 Dr Christopher Buckels
---
Junípero Serra High School
General CV
I am an active scholar in ancient philosophy, primarily in Platonic metaphysics. I am interested in the metaphysical composition of particulars in Plato. Particulars are such things as bees, bananas, and baseballs—the normal things we bump into daily. But these things are also made up of particulars: cells, atoms, and elementary particles. Are the properties of particulars (the buzzing of a bee, the yellowness of a banana, and the hardness of a baseball, for example) parts of them in the same kind of way as their cells and atoms are parts of them? I argue that Plato thinks that particulars are just groups of properties (what metaphysicians call "tropes") without any substratum (anything that isn't a property that holds those properties together). This isn't an anachronistic interpretation of Plato, since he introduces tropes under the names "Form images" and "Form shares" in dialogues such as the Phaedo and the Timaeus. I think Plato's ideas about particulars are just as good, and as likely to be true, as those of contemporary metaphysicians, and they support contemporary developments in physics, as well. I'm also a teacher and department chair of the Theology Department at Junípero Serra High School in San Mateo, CA. I teach a philosophy course that introduces students to philosophy and philosophical thought experiments. I also teach senior theology, which explores the good life, using both philosophical (e.g., portions of Plato's Republic and Aristotle's Nicomachean Ethics) and theological texts (e.g., Aquinas' Summa Theologica) as springboards for thinking about our own lives in practical and concrete ways. In the second semester we focus on Social Justice: students craft an ethical argument, using philosophical and theological resources, that we ought to act to solve an injustice they choose and research, and they design a website to present their research, argument, interview, and solution. I occasionally teach other courses, such as Ethics, Christology, and Church History. I am also teacher coach of the Junípero Serra Mock Trial Team and the Ethics Bowl Team.
Publications
Buckels, C. (Forthcoming) 'A Platonic Trope Bundle Theory', Ancient Philosophy Today: Dialogoi.
Buckels, C. (2019) Review of The Teleology of Action in Plato's Republic by Andrew Payne (Oxford University Press 2017), Journal of the History of Philosophy 57: 2.
Buckels, C. (2018) 'Triangles, Tropes, and τὰ τοιαῦτα: A Platonic Trope Theory', Plato Journal 18, 9-24.
Buckels, C. (2016a) 'The Ontology of the Secret Doctrine in Plato's Theaetetus', Phronesis 61:3, 243-259.
Buckels, C. (2016b) 'Making Room for Particulars: Plato's Receptacle as Space not Substratum', Apeiron 49:3, 303-328.
Buckels, C. (2015) 'Motion and Rest as Genuinely Greatest Kinds in the Sophist', Ancient Philosophy 35:2, 317-327.
Buckels, C. (2014) 'Flux Capacities: A Causal Theory Reading of the Secret Doctrine in Plato's Theaetetus', Society for Ancient Greek Philosophy Newsletter 15:1, 14-23.
Buckels, C. (2013a) 'Compulsion to Rule in Plato's Republic', Apeiron 46:1, 63-84.
Buckels, C. (2013b) 'Mixing Motion and Rest: Predication of the Greatest Kinds in Plato's Sophist', Society for Ancient Greek Philosophy Newsletter 14:1, 3-11.
Buckels, C. (2013c.) 'We Should Always Call the Receptacle the Same Thing', Society for Ancient Greek Philosophy Newsletter 13:3, 13-21.
Buckels, C. (2012″ 'The Republic's Reluctant Rulers', Society for Ancient Greek Philosophy Newsletter 12:3, 5-15.