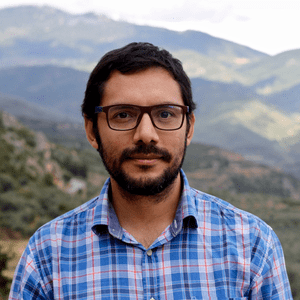 Dr Daniel Vázquez
---
UAB, Barcelona – Department of Philosophy (PROTEUS Project)
General CV
I am a philosopher specialized in ancient Greek and Roman philosophy, currently working on causation and time in Plato, Aristotle, and the Stoics. My research interests include the scepticism of Sextus Empiricus, Plato's ethics and cosmology, as well as the Stoic reception of Plato.
My 12 years of teaching experience include all areas of Greek and Roman philosophy (from Early Greek to Late Antiquity), Ethics, Political Philosophy, Metaphysics, Epistemology, and Continental Philosophy. I have had the opportunity and privilege of teaching these topics in four different countries (Mexico, UK, Brasil and Spain) and in three languages (Spanish, English and Portuguese).
At the moment, I am based in UAB in Barcelona, as part of PROTEUS, a research project funded by the European Research Council. I am also a member of the Plato Centre at Trinity College Dublin. In the past, I worked at the University of Sao Paulo, the University of Oxford, King's College London, the National Autonomous University of Mexico (UNAM) and the Panamerican University (UP). I received my PhD in philosophy from King's College London (2015), my Mphil from UNAM (2010) and my BA from UP (2006).
I also hold a PGCAP in Higher Education from King's College London and I am a Fellow of the Higher Education Academy of the UK. Together with Gabriela Martínez Sainz, I co-founded in 2015 the Centre for Human Rights Studies, an independent and non-for-profit think-tank based in Mexico City working on combating all forms of violence, oppression, and discrimination, advancing social justice and strengthening the respect for human rights, equity and diversity.​
My role in the Centre has been largely pro bono as head of research, mentor, editor, facilitator, and board member. As a result of my involvement with this project, my research interests expanded and now include the philosophical foundations of human rights, the limits of freedom of speech, and the use and appropriation of ancient philosophy in contemporary political discourse.
Publications
Vázquez, D. (forthcoming) 'The Stoics on the Education of Desire', in M. Bosch (ed.), Desire and Human Flourishing, Springer.
de Souza, S., Vázquez, D. (forthcoming) 'Teleology and Sophistry in the Euthydemus', Australasian Philosophical Review 2(3).
Vázquez, D. (forthcoming) 'Escepticismo radical y el alcance de los cinco tropos para la suspensión del juicio [Radical Scepticism and the Scope of the Five Modes for the Suspension of Judgement]', in J. Ornelas (ed.), Rústicos vs. Urbanos, UNAM.
Vázquez, D. (forthcoming) Argumentación y Psicología Moral en la Filosofía Antigua [Argumentation and Moral Psychology in Ancient Philosophy], (in NUN, Mexico). 
Vázquez, D. (forthcoming) Review of Cosmology and Politics in Plato's Later Works, by D.J. O'Meara, Plato Journal.
Vázquez, D. (2020) 'Teleology, Causation and the Atlas Motif in Plato's Phaedo', SCHOLE 14(1): 82-103.
Vázquez, D. (2019) 'The Systematic Use of the Five Modes for the Suspension of Judgement', Manuscrito 42(3): 47-85.
Vázquez, D. (2018) 'Argumentation and Reflection in Plato's Gigantomachia (Sophist 245e6-249d5)', Archiv für Geschichte der Philosophie 100(3): 241-285.
Vázquez, D. (2016) 'Autoengaño, ambición y arrogancia en el Alcibíades de Platón [Self-deception, Ambition and Arrogance in Plato's Alcibiades I]', in J.M. Roqueñi (ed.), Afectividad y confianza en el conocimiento personal, Panorama, 13-30.
Vázquez, D. (2014) 'Reflections on Tutoring Ancient Greek Philosophy: A Case Study of Teaching First-Year Undergraduates in the UK', Studying Teacher Education 10(2): 117-129.
Vázquez, D. (2011) 'La relación entre necesidad lógica y necesidad de re [The Relationship between Logical and De Re Necessity]', Euphyía 5(8): 105-115. 
Vázquez, D. (2011) 'Scepticism, Action and Language', The Classical Review 61(2): 432–433.
Vázquez, D. (2010) 'Metáfora y analogía en Aristóteles [Metaphor and Analogy in Aristotle]', Tópicos 38: 85-116.