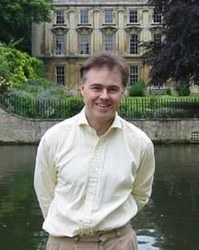 Professor Douglas Hedley
---
University of Cambridge - Faculty of Divinity
I am Professor of the Philosophy of Religion at the University of Cambridge, and Principal Investigator on the AHRC grant The Cambridge Platonists at the Origins of Enlightenment: texts, debates, and reception (1650-1730).
In 2013-14, I was a Templeton Fellow at the Institute of Advanced Studies, University of Notre Dame.
I am also co-chair of the Platonism and Neoplatonism section of the American Academy of Religion and a past Secretary of the British Society for the Philosophy of Religion and past President of the European Society for the Philosophy of Religion.
In March 2002 I was Directeur d'études invité at the EPHE, Sorbonne, and from January to March 2004 I was the Alan Richardson Fellow of the Theology Department in Durham. I am, together with Lieven Boeve and Wim Drees, editor of the Series 'Studies in Philosophical Theology' published by Peeters in Leuven.
In December 2006 I was the Teape lecturer in India, lecturing in Bangalore, Delhi, Kolkata and Hyderabad. I have been external examiner at the Universities of Manchester and Oxford.
I studied Philosophy and Theology at Keble College, Oxford and in 1992 gained a doctorate in the Philosophy Faculty at the University of Munich under the supervision of Werner Beierwaltes. In 1993 I was awarded a post-doctoral Fellowship by the Deutsche Forschungsgemeindschaft for work on seventeenth century theology and the Cambridge Platonists.
In 1995 I taught at Nottingham University and in 1996 moved to the Divinity Faculty in Cambridge.